Saturday, 21 Sept. 2002
Don't forget to watch Sunday night's Emmy awards on NBC 7/6c. Maura Tierney and Noah Wyle will be presenters. Although ER is not nominated in any major categories, John Wells is nominated for Outstanding Writing For A Drama Series for the episode "On The Beach".
Season eight reruns start on Thursday on TNT.

Friday, 20 Sept. 2002
For Maura fans you gotta check out October's Esquire Magazine. In one of its periodic "Women We Love Issues" it has Maura as number one of eight "Most Covetable Wives". (mauratierney.org)
According to UNC medical students "ER" is generally realistic in portraying an emergency room.....click here for more.
ER was awarded a Phlemmy by the American Lung Association for showing doctors smoking to relieve stress. More winners and losers.


Thursday, 19 Sept. 2002
ER premiered on this day 8 years ago. Doesn't time fly when you're having fun ?
Anthony Edwards explains to TV Guide why he isn't upset about not getting nominated for an Emmy for his last season on ER.
Four ER stars made People magazines' Best/Worst Dressed list. This edition is in stores now.
Alex Kingston: Worst dressed list, worst hairstyle (poor woman)
Michael Michele: Best dressed list
Ming-Na: Worst dressed list
Noah Wyle also appears with his wife Tracy with a comment about how much they look alike.
Anthony Edwards was spotted along with other stars at the Tommy Hilfiger fashion show.


Wednesday, 18 Sept. 2002
I've updated the links page. It actually has some links now. Take a look, they are all link worthy sites.
The first spoilers for Episode 7 have come out and boy is one of them a HUGE surprise ! I'm almost tempted to blurt it out right here, but out of respect to the people who don't want to know you'll have to see the spoiler page.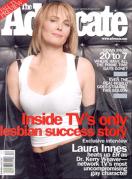 Laura Innes (Kerry Weaver) appears on the cover of The Advocate this month. In it she talks about ER and playing a gay character.
Tuesday, 17 Sept. 2002
No need to adjust you computer screens, this is the new look for The ER Site. Too many people were having problems with the previous dark colors so I did a complete make-over. I hope everyone likes it ! Ok on to the news.....
The spoilers page is worthwhile checking out today. Although it's updated almost daily this is one of those times where there has been a small influx of spoilers all at once.
Congratulations to ER for winning the Outstanding Single-Camera Sound Mixing For A Series for "Partly Cloudy, Chance of Rain" at Sunday's Creative Arts Emmys. Don't forget to watch the annual Emmy awards this Sunday. Noah Wyle and Maura Tierney will both be presenters.
Speaking of Emmys, at the Creative Arts Emmys "Frasier" created the new record of most Emmy awards with a total of 30. ER currently has 20. Maybe ER could top this....c'mon guys give us some fantastic new seasons. ...... No ? Please ? Would adding a cute dog help ?
The Lili Claire Foundation Honors Music Industry Acclaimed Director/Producer Mimi Leder. Mimi Leder has been a director on ER for many years. Most of the episodes she directed are in the earlier seasons.
The Official ER at NBC site has added some not only actor bios but also character bios for ER. These are worth reading if you want to have a good laugh. I'm not quite sure who wrote these, I assume some one who has seen ER before, but you would never know it from what's written. Some of the comments are: re Abby "Abby's close friendship with Carter has slowly blossomed into a long-term romantic relationship" Although I love both these characters I thought last time we watched they had just kissed, possibly beginning their relationship. Did I miss some secret love affair during the secret summer episodes ? Re:Carter "After his brief flirtation with Susan Lewis ended, Carter and Abby's close friendship deepened into love" Carter might be in love, but Abby ? Someone's getting a little ahead of themselves. Re: Luka "Now a year out from his unhappy relationship with Abby, Luka has a brotherly affection for her, and is enjoying a bachelor lifestyle" A friend maybe but I wouldn't go that far.

Think what Carter wants to do in upcoming episode 3 is too dramatic ? (I won't spoil it for those who don't want to know) If you've read the spoilers then read this and maybe it isn't so far fetched after all.

Monday, 16 Sept. 2002
The dark colored background was causing too many problems so a brand new look will be up tomorrow. Spoilers and news will also be updated.

Saturday, 14 Sept. 2002
I've been made aware of the fact that some people are having trouble viewing the colors of my website. I'm not quite sure if this is a general thing or just limited to a few people. I'm doing my best to fix this as I want everyone to be able to view it properly. I know how frustrating it is when a site is tough to view. But I need your help !
Now I know how people hate to answer surveys and be forced to comment on stuff so I made this nifty poll. Please vote so I know what to do with my site. If you feel so inclined or have other problems with the site, feel free to add a comment or email me.
Thank you


Friday, 13 Sept. 2002
If you happen to be in Maysville, Kentucky on the 28th you can see George Clooney at the fourth annual Rosemary Clooney Festival. This year's event includes a tribute to the legendary singer and actress who died in June.
With the new season only 2 weeks away critics are weighing in on ER's upcoming season.....

TV Guide - Matt's forecast: While ER is hardly on life support, the show needs a creative transfusion to keep the masses glued.

Journal Sentinel TV critic - Q: Nancy of Glendale -- How do you think E.R. will do this season after losing yet another favorite cast member? Do you think Luka will have a bigger role. I keep waiting for him to step up.
A: Joanne Weintraub -- It still has a strong ensemble cast, but the ratings have been steadily eroding -- and this year there's some interesting competition from CBS' good new Without a Trace, which will benefit from its CSI lead-in. Re Luka, I'm a fan, too. Don't know why hasn't been given more to do.
Speaking of ratings. ER came in last with "On The Beach" last night. Following CSI and Primetime.
Site Update - This page is a bit slow at the moment but it will be fixed shortly.


Thursday, 12 Sept. 2002
Spotted ! Julianna Margulies (ex Carol Hathaway) at the Toronto film festival promoting her new film Evelyn. Produced by Pierce Brosnan and co-starring Brosnan and Aidan Quinn.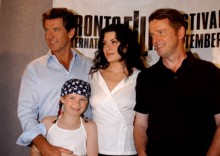 Julianna will also be starring in a movie The Man From Elysian Fields alongside the Rolling Stones Mick Jagger.
Although Noah Wyle's new film White Oleander also premiered at the Toronto film festival, Wyle was noticeably absent. White Oleander is produced by John Wells.